National University of Singapore - Invitation to NES UNICON 2021
National University of Singapore (NUS) Entrepreneurship Society (NES) is holding their largest annual tech, entrepreneurship and business conference in Southeast Asia, and would like to warmly invite students from the SATU member universities to join in. This will be a great opportunity for students to get exposed to entrepreneurship and build their connections globally. Furthermore, students are able to participate in UNICON ARENA 2021 where they will be challenged to solve prominent problems that companies or people are facing world-wide. Not to mention, there will also be attractive prizes to be won. Details can be found in www.uniconglobal.com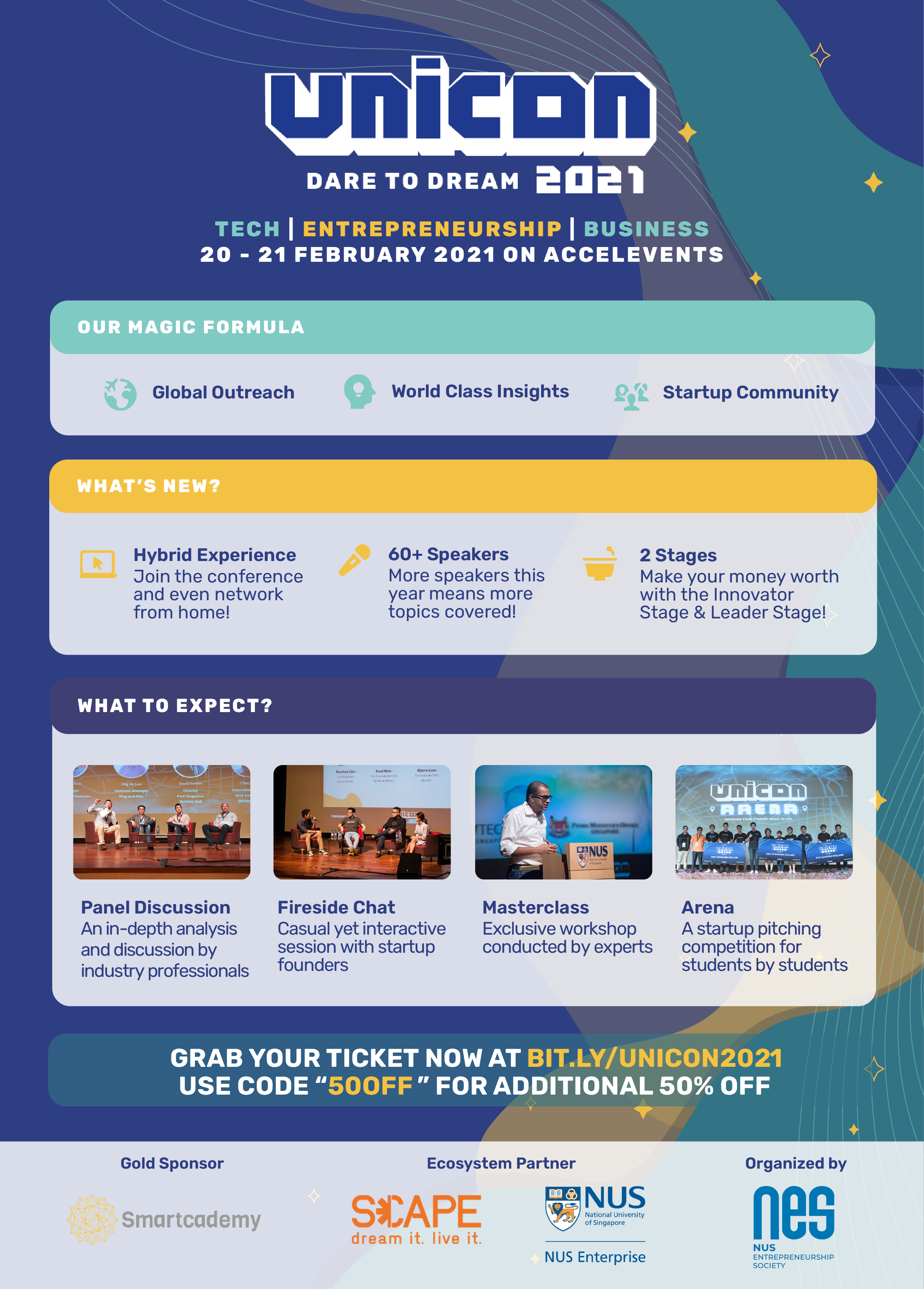 Are you an entrepreneur enthusiast? Do you want to know and learn more about entrepreneurship? Or cannot wait to get your hands 'dirty'? Join us now! Details of our event can be found below and on our e-flyers. We hope to see you!
About UNICON
1.1 About NUS Entrepreneurship Society (NES)
Founded in 1992, NUS Entrepreneurship Society (NES) is the premier tertiary entrepreneurship organisation in Singapore.
NES promotes entrepreneurship at the National University of Singapore (NUS) to empower the next generation of entrepreneurs. We work with passionate students, prominent professors and our ensemble of partners to drive innovation and entrepreneurship.
NES's flagship event is none other than UNICON, Southeast Asia's largest & craziest student led Tech, Entrepreneurship & Business conference!
1.2 About UNICON 2021
Each year, NES hosts Southeast Asia's Largest Collegiate Conference — UNICON. UNICON is an annual tech, entrepreneurship and business conference with the mission to connect students, entrepreneurs, and companies sharing a common interest in the entrepreneurial scene; we envision a more collaborative and connected ecosystem, making it easier for everyone to find like-minded individuals to collaborate with.
This year, UNICON is going hybrid with an immersive online-offline experience. Two livestream stages: the Innovator and Leader Stage would be running concurrently to cater to a larger, more global audience.
🔶NUS Entrepreneurship Society presents to you Southeast Asia's Largest & Craziest student led Entrepreneurship & Tech Conference, UNICON 2021!🔷
20th - 21st Feb 2021
EXCLUSIVE PROMO CODE "50OFF" for 50% Discount!
Student: $10 (Usual Price $20)
Public: $20 (Usual Price $40)
Get your tickets NOW at: BIT.LY/UNICON2021
For more info, visit our website at www.uniconglobal.com
Follow us on Instagram at www.instagram.com/nesunicon
1.3 About UNICON ARENA 2021
ARENA is an annual start-up competition, held during UNICON, NES annual entrepreneurship conference, where young entrepreneurs have the chance to pitch their start-up ideas and solutions to solve real-world problems.
Top 3 TEAMS are able to take away home cash PRIZES and INCUBATION opportunities worth up to $8k with *SCAPE!
🏆1st Prize: $2000
🥈2nd Prize: $1000
🥉3rd Prize: $500
There will be 2 rounds of judging, which are the Preliminary Round and the Finale Round. Your team will need to submit a recorded pitch for the preliminary round and only the top 6 teams will proceed to the finale, held physically during UNICON 2021.
Important dates to note
Registration & Pitch Video Deadline: 1 Feb 2021
ARENA Finale: 21 Feb 2021
Registrations for UNICON ARENA will end on 1 Feb 2021, so join us NOW at bit.ly/arena2021 , and kickstart your entrepreneurship journey!
For more info on ARENA 2021, please refer to bit.ly/arena21infopack