---
| Introduction | Participants | Programs | Conclusion | Photos |
---
Serving as a platform for communication in Southeast and South Asia, the SATU Presidents' Forum aims to enhance a better understanding and grasp on higher education in the region by inviting eminent university presidents to engage in academic exchange, to attain multinational and multiregional academic cooperation, and to increase communication frequency in the area while simultaneously working towards area integration of efforts pertaining to academia.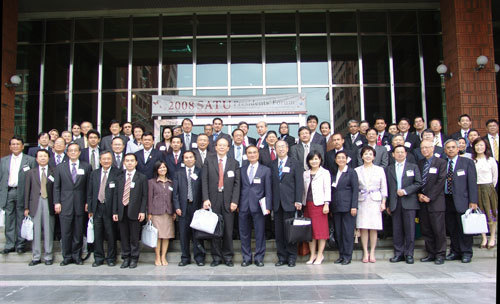 One of the most valuable conclusions reached during the 2008 SATU Presidents' Forum is that multiple participation from varying fields should be the active and constructive basic for further cooperation. In the near future, SATU International Secretariat will focus on its' role and functions, with the aim of becoming a distinct and irreplaceable organization within the Asia Pacific region.
During the General Assembly held on Nov. 10th, details pertaining to steering committee elections as well as future development with the joining of India ware further explored. In order to actualize the following Forum Goals, participants were divided into various sessions for in-depth dialogue:
- strengthening academic cooperation within Southeast and South Asia.
- accelerating internationalization through Academic and Cultural networking and cooperation.
- improving on the quality and quantity in education, research and community outreach.
- providing student/faculty/staff exchange programs.
- fostering academia-industry collaboration.
- focusing on economic, social, and environmental sustainable development.
The 2006 Forum concluded that a university's aim should have teaching, research, and service as the organization's primary mission; the 2008 forum sessions were planned accordingly based upon the aforementioned conclusions. Increasing students' professional appeal, industry-academic collaboration, and university autonomy and management, respectively, were the three sessions for the 2008 Forum. During the closing ceremony, "Enhancing University Students and Faculties Exchange and Cooperation Program" was declared, with the effort to increase international exchange and communication.
Among the three topics explored during the 2008 SATU Presidents' Forum, particular emphases was placed on Industry-Academia Collaboration, with the objective of international cooperation and forging alliances among universities. Moreover, to realize the organization's mission and goals, member universities were invited to assume larger roles as session panelists by sharing their unique perspectives on the outstanding developments within an international channel. Visits to corporations such as South Taiwan Science Park and Chi Mei Optoelectronics were made to present industry-academic collaboration accomplishments, to gain further information and a better understanding, and to establish a firm foundation for further cooperation.
Name

Institute

Title

Speakers and Special Guests
Ovid J.L. Tzeng
Executive Yuan
Minister without Portfolio
Michael Devlin
Pharos Capital Group, USA
Co-founder
Liu, Ching-Jen
BICER, Ministry of Education
Director General
Ou, Shu-Fen
BICER, Ministry of Education
Section Chief
Member University Presidents and Representatives
Muhammad Anis
Universitas Indonesia
Vice Rector, Academic & Student Affairs
Govindan Rangarajan
Indian Institute of Science - Bangalore
Chairman, International Relations
Datuk Kamaruzaman Hj. Ampon
Universiti Malaysia Sabah
Vice Chancellor
Ann Anton
Universiti Malaysia Sabah
Director, Biotech Research Institute
Vincent Pang
Universiti Malaysia Sabah
Director, Centre for Academic Advancement
Datuk Nik Mustapha R. Abdullah
Universiti Putra Malaysia
Deputy Vice Chancellor, Research & Innovation
Ahmad Shukri bin Mustapa Kamal
Universiti Sains Malaysia
Deputy Vice Chancellor, Academic & International Affairs
Norpisah Mat Isa
Universiti Sains Malaysia
Deputy Registrar, Academic & International Affairs
Siti Hamisah Binti Tapsir
Universiti Teknologi Malaysia
Deputy Vice Chancellor, Academic & International Affairs
Aminah Binti Abu Bakar
Universiti Teknologi Malaysia
Deputy Registrar, Office of the Deputy Vice Chancellor
Abdul Razak bin Chik
Universiti Utara Malaysia
Deputy Vice Chancellor, Academic & International Affairs
Bienvenido F. Nebres, S.J.
Ateneo de Manila University
President
Rodolfo P. Ang
Ateneo de Manila University
Dean, Schoolof Management
Ricardo Fernandez De Leon
Centro EscolarUniversity
Executive Vice President
Gerardo de la Cruz Janairo
De La Salle University
Dean, Collegeof Science
Lydia B. Echauz
Far Eastern University
President
Ester A. Garcia
University of the East
President
Emerlinda R. Roman
University of the Philippines
President
Pilar I. Romero
University Santo Tomas
Vice Rector, Administration
Pan, Tso-Chien
Nanyang Technological University
Dean, Collegeof Engineering
Tan, Thiam-Soon
National University of Singapore
Vice Provost
Said Irandoust
Asian Institute of Technology
President
Pritam K. Shrestha
Asian Institute of Technology
Head of External Relations & Communications
Cherdpong Sibunruang
Assumption University
Dean, Schoolof Management
Vajara Rujiwetpongstorn
Chiang Mai University
Vice President
Kua Wongboonsin
Chulalongkorn University
Vice President
Sansanee Chaiyaroj
Mahidol University
Vice President, Research & Academic Affairs
Boonsom Siribumrungsukha
Prince of Songkla University
President
Nares Pantaratorn
Rangsit University
Vice President, Academic Affairs
Hoang Van Chau
Foreign Trade University
President
Pham Gia Tri
Foreign Trade University
Director, Center for Language & International Cooperation Development
Nguyen Dong Phong
University of Economics, Ho Chi Minh City
Vice Rector
Truong Minh Kiet
University of Economics, Ho Chi Minh City
 
Mai Trong Nhuan
Vietnam National University, Hanoi
President
Vu Dinh Giap
Vietnam National University, Hanoi
Chief of President's Office
Nguyen Thi Anh Thu
Vietnam National University, Hanoi
Executive Vice Director, International Relations
Do Thanh Long
Vietnam National University, Hanoi
Secretary to the President
Mr. Roberto Houser
Universidad Del Pacifico, Ecuador
National Planning Director
Ou, Shan- Hwei
Tajen University
President
Wu, Jiann-Kuo
Tatung University
President
Wu, Trong-Neng
China Medical University
Vice President
Margaret Chen
Wenzao UrsulineCollege of Languages
Vice President
Chang , Horng-Jinh
Asia University
President
Cheng, Li-Jung
Fortune Institute of Technology
President
Liu, Thu-Hua
Ming Chi University of Technology
President
Wang, Da-Yung
Mingdao University
President
Haydn H.D. Chen
Tunghai University
President
Chen, Chin-Seng
Chang Jung ChristianUniversity
President
Tai, Chein
Southern Taiwan University
President
Yu, Hsin-Su
Kaohsiung Medical University
President
Yeh, Shyi-Dong
National Chung Hsing University
Vice President
Cheng Shu-Yuan
National Chung Hsing University
Office of International Affairs
Chou, Shieu-Ming
National TaichungNursing College
President
Hou, Chung-Weun
National Taipei University
President
Lee, Tsu-Tian
National Taipei University of Technology
President
Chung, Ue-Lin
National Taipei College of Nursing
President
Tsai, Den-Mo
National Taitung University
President
Lee, Si-Chen
National Taiwan University
President
Chen, Shi-Shuenn
National Taiwan University of Science and Technology
President
Chou, Hung-Shih
National Taiwan Sport University
President
Peter, Chung-Yu Wu
National Chiao Tung University
President
Hwang, Wen-Shu
National Dong Hwa University
President
Lee, Chin-Cheng
National Kinmen Institute of Technology
President
Guu, Yuan-Kuang
National PingtungUniversity of Science and Technology
President
Lee, Kuo-Tien
National Taiwan Ocean University
President
Huang, Ing-Chung
National University of Kaohsiung
President
Soo, Von-Wun
National University of Kaohsiung
Vice President
Jimmy Yung
National KaohsiungHospitality College
President
Chen, Wen-Tsuen
National Tsing Hua University
President
Syu, Wan-Jr
National YangMingUniversity
Dean, Academic Affairs
Wang, Dau-Chung
National Yunlin University of Science & Technology
Director of International Affairs
Lee, Ming-Jen
National Chiayi University
President
Wu, Jyh-Yang
National Chung Cheng University
President
Su, Yan-Kuin
Kun Shan University
President
Flora C. I. Chang
Tamkang University
President
Cheng, Yung-Fu
Jinwen University of Science & Technology
President
Huang, Chung-Chih
Tzu Hui Institute of Technology
President
Chang, Fwu-Mei
Tzu Chi University
Vice President
Fu, Shen-Li
I-Shou University
President
Sun-Lon Jen
I-Shou University
Dean of International Affairs
Wang, Chao-Hsiung
Chia Nan University of Pharmacy & Science
President
Michael J.K. Chen
Ling Tung University
President
Time

Agenda

Monday, November 10th

08:30~09:30

Registration

09:30~09:50

Opening Ceremony
- Opening Address by the Chairman
Dr. Michael M. C. Lai, President of National Cheng Kung University
- Congratulatory Address
Dr. Liu, Ching-Jen, Director General BICER , Ministry of Education

Venue: M.E. Chung Ming Aud.

09:50~10:40

Keynote Speech: Dr. Ovid J.L. Tzeng, Minister without Portfolio
"After the Olympics: Thoughts behind the Gold"

Venue: M.E. Chung Ming Aud.

10:40~11:00

Tea Break

11:00~11:30

SATU Forum Review

Venue: M.E. Chung Ming Aud.

11:30~12:20

Special Presentation: Michael Devlin, Co founder and Managing Partner, Pharos Capital Group
"Industry-Academia Collaboration: Building an Innovation Ecosystem"

Venue: M.E. Chung Ming Aud.

12:20~13:30

Lunch - M.E. 1F

13:30~15:00

Steering Committee Meeting
Venue: E.E. Conference Room (4F)

13:30~15:00

Session A1-Part 1
Topic: Preparing Students for Professional Practice
Moderator :
President Hyden H.D. Chen, Tung Hai University
Panelists :
- President Bienvenido F. Nebres, Ateneo de Manila University, Philippines
- Vice President Kua Wongboonsin, Chulalongkorn University, Thailand
- Vice President Shyi-Dong Yeh, National Chung Hsing University
- President Chung Weun Hou, National Taipei University
- President Flora C.I. Chang, Tamkang University

Venue: M.E. Hsiang Hsien Auditorium

SessionA2 – Part 1
Topic: Industry-Academia Collaboration
Moderator:
President Chen, Wen Tsuen, National Tsing Hua University
Panelists:
- Dean Pan Tso-Chien, Nanyang Technological University, Singapore
- Vice Rector Nguyen Dong Phong, University of Economics, Vietnam
- President Tsu-Tian Lee, National Taipei University of Technology
- President Shi-Shuenn Chen, National Taiwan University of Science and Technology

Venue: M.E. San Sing Auditorium

15:00~15:20

Tea Break-- M.E. Building, 1F Hall

15:20~16:50

Session A1-Part2
Topic: Preparing Students for Professional Practice
Moderator:
President Peter, Chung-Yu Wu, National Chiao Tung University
Panelists:
- Prof. Siti Hamisah Binti Tapsir, Universiti Teknologi Malaysia
- President Mai Trong Nhuan, Vietnam National University, Vietnam
- President Thu Hua Liu, Ming Chi University of Technology
- President Jyh-Yang Wu, Naitonal Chung Cheng University
- President Ue-Lin Chung, National Taipei College of Nursing

Venue: M.E. Hsiang Hsien Auditorium

Session A2-Part2
Topic: Industry-Academia Collaboration
Moderator:
President Tai, Chien, Southern Taiwan University

Panelists:
- President Lydia B. Echauz, Far Eastern University, Philippines
- President Boonsom Sirribumrungsukha, Prince of Songlka University, Thailand
- President Yan-Kuin Su, Kun Shan University
- President Shen-Li Fu, I-Shou University

Venue: M.E. San Sing Auditorium

16:50~17:50

General Assembly

Venue: M.E. San Sing Auditorium

19:00~21:00

Banquet
Special Dinner Presentation: Dr. Si-Chen Lee, President of National Taiwan University
"Climate Change and the University Responsibility"
Venue: An Ping Old Fort, Tainan
Time

Agenda

Tuesday, November 11th

08:30~09:00

En route to Southern Taiwan Science Park

09:00~10:30

Visit Southern Taiwan Science Park

10:30~10:40

En route to Chi Mei Corporation

10:50~12:00

Visit to Chi Mei Corporation and Chi Mei Museum

12:00~12:50

Lunch – Chi Mei Café

12:50~13:20

Back to NCKU

13:30~15:00

Session B
Topic: Autonomy of University
Moderator:
Prof. Chiou, Jen-Ren, Vice President for Finance, NCKU.
Panelists:
- Prof. Govindan Rangarajan, Indian Institute of Science, India
- Vice Provost Tan Thiam Soon, National University of Singapore, Singapore
- Prof. Sansanee Chairoj, Mahidol University, Thailand
- President Ermelinda R. Roman, University of Philippines, Philippines

Venue: M.E. San Sing Auditorium

15:00~15:50

Closing Ceremony

Venue: M.E. Chun Ming Hall
I. Steering Committee Election
Steering committee elections were held during the SATU Presidents'Forum. The steering committee was expanded to include more university presidents in hopes of benefiting from more diverse suggestions, recommendations, and ultimately aiming for a better processing mechanism within SATU.
SATU Steering Committee Member (2008-2010)
| | |
| --- | --- |
| Country | School |
| India | Indian Institute of Technology Delhi |
| Indonesia | University of Indonesia |
| Malaysia | Universiti Sains Malaysia |
| The Philippines | University of the Philippines |
| Singapore | National University of Singapore |
| Taiwan | National Taiwan University |
| Thailand | Mahidol University |
| *Vietnam | |
* The list above were Universities receiving the highest amount of votes, by country. According to the Forum Constitution, the Forum Chair shall formally invite the second committee member in order for the decision to come into effect.
* In the case of Vietnam, the votes were evenly distributed with no universities receiving highest votes. Therefore, the situation will be reported to the steering committee for a conclusion to be reached. Since Brunei and Cambodia were unable to attend the Forum, the International Secretariat will formally inform universities according to the constitution.
II. Bylaw Amendment
To strengthen operations and increase efficiency, the Board proposed and passed bylaw amendments during the SATU Presidents' Forum. Two groups, namely Academic Exchange and Industry-Academia Community Collaboration, were setup under the National Secretariat. By consolidating the organization and clarifying the corresponding roles, and to execute related events, aiming to create New Era of International Communication.
III.
One of the most significant achievements during the conference was the industry academia events. Aside from member universities, there was avid participation from various institutions and organizations including government organizations, the Southern Taiwan Science Park, and also Chi Mei Optoelectronics; the guests as well as member representatives were greatly impressed with Taiwan's stellar record in Industry-Academic Collaboration. With the initial introductions out of the way, this group of august individuals now are able to initiate and maintain further communication and cooperation with other member universities.
VI.
Aiming for sustainable development and self management, SATU Presidents' Forum and its secretary would like to actively focus on presenting the Forums'distinct and unique features, demonstrating that we are one of a kind in Southeast and South Asia area; working towards becoming an unsubstitutable organization in Asia and in the world.
V Session Notes and Conclusion
1. AI: Preparing Students for Professional Practice
A university can recruit countless exceptional students, but what becomes of the outcome of these individuals depends on the knowledge, skills, and humanity they possess when they emerge from their university experiences. How we gauge their "steady-state" success can only be known long after they graduate. Even an extraordinary student who graduates with honors gives no assurance to their performance in the professional workplace, if they are ill-prepared.

As educators, we should be held accountable for preparing students for a career which not only will prepare then for a meaningful life and one which will increase the quality of life for humanity in general. Is it our curriculum, faculty performance, or the absence of hands-on professional experience that needs innovation and modernization? These and other factors contribute to our overall effectiveness as educators. A qualified faculty candidate should possess not only a thorough comprehension of his/her particular field; but also analytical and interpersonal skills that reflect the cross-cultural era. More than ever, the rising global trend in the workplace demands us to reevaluate our approach to education. If we do not amend our programs in the future, our education may become irrelevant. A well-formed education requires the incorporation of both traditional and contemporary thinking.

In the session titled "Preparing Students for Professional Practice" all of the panelists unanimously agreed that in addition to just pure knowledge, students nowadays must be equipped with other skills in order to be ready to face the world. A holistic education is what students deserve and ought to receive.

Fr. Bienvenido Nebres, President - Ateneo de Manila University shared about balancing Needs & Goals:

Professional knowledge & skills (depth)
Broader range of knowledge & skills (breadth/flexibility)
Softer skills:

Communications
Interpersonal relations
Languages and multicultural relationships

Ethic and social responsibility (national and world citizenship)
Leadership skills.

He stated that developing an international/multicultural perspective is important for students. Studying abroad and accepting int'l students. Instill in students and prepare them to become professional for others.

Personal, spiritual, and social/cultural education is emphasized.

Dr. Shyi-Dong Yeh of National Chung Hsing University shared the strategic goals of academic affairs, namely: Elevation of Teaching Quality, Enhancement of Student Learning and Construction of E-Teaching and learning Environment.

Dr. Chung-Weun Hou, President of National Taipei University shared the following strategies for professional development among students. There are Core Values that the University adheres to, including Integrity (Consistent personal Integrity), Genuine (Sincere attitudes toward people), Justice (commitment to Justice), Life (Respect for it), Freedom (Personal Freedom and the ability to choose outward circumstances), Hope (maintaining hope for tomorrow).

Taiwan's Survey of 1000 enterprises by Cheers Business Magazine indicated that the top 3 attributes of employability required by college graduates are: team work attitude and abilities, ability to learn and potential to develop for a future, and the ability to handle pressure. Dr. Flora Chang of Tamkang University shared the following 5 strategies proposed by Community College Survey of Student Engagement to reach excellence of learning:

Set high expectations and clear goals
Focus on the front door (first semester)
Elevate developmental education and student support
Use engaging instructional approaches (student-centersed)
Make engagement inescapable (student-faculty interaction)

A holistic curriculum is ideal for preparing students to not only work professionally but also live soundly.

President Mai Truong Nhuan shared about UNESCO's 4 Pillars of education. Learning to Know, to Do, to Be, and to Live Together. Socially, Critical, logical thinking is important, "Thinking globally – acting locally."
2. A2: Industry-Academia Collaboration
The academic and industrial worlds have a long- standing relationship that is only getting stronger with time. Academia brings talent and research skills to the table, while industry provides the capital and experience that collaborations require. The impact of the global tide has resulted in an international trend to promote such alliances. Reaching out to the corporate world also serves to further enforce the cross-cultural era that we are living in today. Academia-industry cooperation can provide us with the means to advance our research capabilities, whilst giving our students the opportunity to gain practical work experience. Corporate collaboration is both advantageous and valuable to our future standing in the global community.

In the session on Industry Academia Collaboration, all panelists noted that research and development cannot hide in the academic "ivory tower". There are many benefits for both groups if done properly. Each panelist shared about their individual institutions and programs they have to promote this collaboration.

Dr. Lydia Echauz shared that due to the dissatisfaction of industry with shortcomings of fresh graduates, industry and academe had to collaborate. The objective was to keep Far Eastern University on the radar screen of employers through internships. Tracer study shows that for number of graduates hired:

75% in 6 months
93% in 1 year
100% in 2 years

President Siribumrungsukha of Prince of Songkla University stated that, since 70% of its graduates enter private sector jobs, there really is no reason why universities should not maintain close relationships with the private sector.

President Su Yan-Kuin of Kun Shan University shared the six Models of University-Industry Cooperation:

General research patronage
Cooperative patronage
Knowledge transfer
Technological transfer
Unofficial cooperation
Alliances

Worth noting are some of the future challenges, as shared by Prof. Pan Tso-Chien of Nanyang Technological University –

- The need to constantly update and upgrade university programs to ensure that they remain relevant to the new economy and to the education of future leaders;

- to foster closer working relations with industry and governmental agencies, creating opportunities for students; and

- to encourage and empower students to leave their comfort zones and take part in these programs.
3. B:Autonomy of University
University autonomy is a goal of higher education. The significance of this goal is rooted in academic freedom. Achieving this lofty objective requires a profound balance of power between university and government in order to produce the most effective results. From allocation of funds, to general governance and initiatives, universities need to become more independent, in order to facilitate its own educational mission.

University autonomy is a goal of higher education. There needs to be a balance of power between university and government.

There are three key aspects when discussing university autonomy:

Administrative: more freedom in governance and evaluations.

National universities are incorporated as a legal entity.
Government surveillance due to the provision of partial budgetary resources.
University is evaluated via quality assurance or accreditation.

Financial: Fund management, self structuring of salaries and fees.

Tuition/fees scheme and salary structure should partially reflect market condition.

Personnel:

Human resource plays a very important role in administrative management.
Management of college personnel and university professors are quite different.
The welfare policy of college personnel is designed to improve their service efficiency.
Pension plan is important to both college personnel and university professors.

Professor Rangarajan began by sharing some background on Autonomy. The Magna Charta Universitatum, which states that academic freedom in research and in training should guarantee freedom of expression and of action, being able to distribute knowledge and truth without restriction. Over 600 universities have signed this.

This topic was pertinent even as early as 1950, at the UNESCO Conference in Nice where an important point was the tolerance of divergent opinion and freedom from political interference. The principle of Academic Freedom can be defined as the freedom for members of the academic community – scholars, teachers and students – to follow their scholarly activities within a framework determined by that community in respect of ethical rules and international standards, and without outside pressure.

The benefits of autonomy:
Coupled with academic freedom, it enables a university to innovate and quickly respond to any changes
Better than government or corporate structures
Hence very durable (university system is many centuries old)
Accountability:
In return for autonomy, Government requires accountability since public money is being spent
How to protect autonomy:
Alliances (like SATU) can be formed to protect against excessive government control
Lobby for legislation about University autonomy in law
Have strong and transparent internal accountability measures to protect the autonomy already granted
Strict quality control
Create corpus funds
Caveats:
Reasonable autonomy is preferable over absolute autonomy
Social pressures can lead to legislation of affirmative action or quotas
Government may require research to be "useful"
Social obligations can lead restrictions that
Indirect threats:
Government may restrict research funding to areas it deems important (i.e. nanoscience and nanotechnology)
Commercial research funder determines research direction
Excessive pursuit of potentially patentable technologies skews research priorities.
Enlightened Leadership:
Autonomy, like democracy, is to a large extent a matter of mind-set and outlook of the leaders
If presidents of Universities see their jobs as pleasing the Ministry for gaining and retaining their terms/jobs, no amount of structural changes can bring autonomy to Universities
On the other hand, if they are principled and committed to realizing the mission and vision of the University, autonomy will come
Internal Autonomy:
Presidents should practice what they preach
Faculty should have full freedom to oppose the views of the administration in appropriate forums
Achievable by regular interaction with faculty, delegation of power, balance between top-down and bottom-up management styles.
Professor Tan Thiam Soon shared about Singapore and its path in autonomy. They were given greater autonomy to:

To better respond to the opportunities and challenges they face
Hold their own against universities overseas
Enable them to differentiate themselves and chart their own strategies towards achieving peaks of excellence.

On April 1, 2006, National University of Singapore and Nanyang Technological University moved from being a statutory board to become a not-for-profit company limited by guarantee under the Companies Act.

With greater financial autonomy over the use of public funds- can decide on trade-offs between investing in manpower/infrastructure or teaching/research as they deem fit.

To go beyond financial autonomy, seek to become financially more flexible and robust through actively seeking alternative sources of funding to support their missions and goals.

More freedom to admit students based on their own independent (objective) admission criteria.

There is a need to cultivate a strong support network around itself by strengthening communications and building up a deep sense of community among all the stakeholders.

For autonomy to succeed, will need to nurture a culture of ownership by the stakeholders in our universities:

Requires a mindset change which will take time
Difficult to achieve if there is no overt change in the status of the universities
Corporatisation sends a strong signal that the university belongs to its stakeholders, not the Government- encourage university stakeholders to take greater ownership and play a more active role in charting the university's directions

Main benefits:

No longer be constrained by the operational regulations imposed on statutory boards.
Much more administrative and financial autonomy to explore different ways to build up teaching and research excellence, raise their international standing and enhance their students' experiences.

Need to ensure that the necessary internal systems and processes are in place and most importantly, people of the right quality and commitment are prepared to take up the challenge to steer the universities in the years ahead.

While enjoying greater autonomy, because funding still comes from the Government, there needs to be a framework to provide assurance that funds are well-utilized and primarily used towards the achievement of national objectives.

Singapore's Model (Three Components):
Policy Agreement with MOE: Clearly defines the boundaries of universities' autonomy.
Performance Agreement: formulated by university, agreed by MOE. Articulates what each university sets out to achieve in research, teaching, service and organizational development over 5 years.
MOE's Quality Assurance Framework for Universities (QAFU) Annual progress report submitted into MOE.
Prof. Sansanee Chaiyaroj shared that currently there are 13 autonomous institutions in Thailand. Autonomous universities in Thailand are still influenced by the following:

Budget Bureau Office
Commission on Higher Education, MOE
Ministry of Public Health
National Research Council of Thailand
Etc…

1/3 of Mahidol University's budget comes from the government. They became autonomous in October of 2007.

"In the sense of Mahidol University", Autonomy:
Is justified on the grounds that universities' core activity is research and development and research-driven education
University is able to compete globally for excellent academic staff and excellent students.
Both dimensions require flexibility, a long-term planning horizon, the capacity to innovate, cooperate, reach out, and to change and act proactively.
The premise its' based on is trust, performance, engagement and mutually rewarding partners/relationships.
Being more proactive and entrepreneurial but with full accountability, transparency and quality assurance.

Industry-Academia Collaboration: 3Cs -à

Change attitude Communication Collaborative model

Degree of Acceptance of Autonomy

Broad – but non unanimous – acceptance within universities
Relatively good support of the principle at governmental level, but widespread restrictions in its implementation.

Autonomy of University leads to…

Improvement in governance, leadership, and management (capacity of change in rapid changing environment)
Accountability towards Sponsors (Government, private sectors, foundations)

Food for Thought

With insufficient funding, university now face a very difficult situation –

Market demand may not go in line with academic excellence or the mission of the university
Increasing revenue is necessary for the sustainability of the university
How to balance between quality and serving market demand
How far should one travel the path of entrepreneurial university?

President Ermelinda Roman of University of Phillipines shared about her institution, which enjoys autonomy and has been referred to as the republic other than the Republic of Phillipines.

UP has its' own charter. Also enjoys fiscal autonomy which means it has the authority to generate its own resources and determine how these will be used/spent. Income can be kept at the the end of the year, not reverted back to National Treasury.

VI To highlight the Forum's theme - Global Humanity Challenges and Urgent Responsibilities of 21st Century Universities, member representatives signed the SATU Manifesto, targeting to improve sustainable international collaborations, cultivating and producing competitive leaders for the new generation, maintaining Asia's unique cultural vitality, and presenting the outstanding achievements of SATU members throughout Asia to the rest of the world.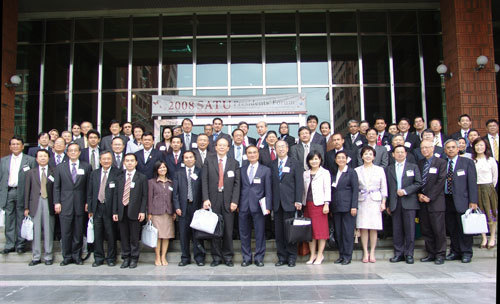 SATU Presidents Forum 2008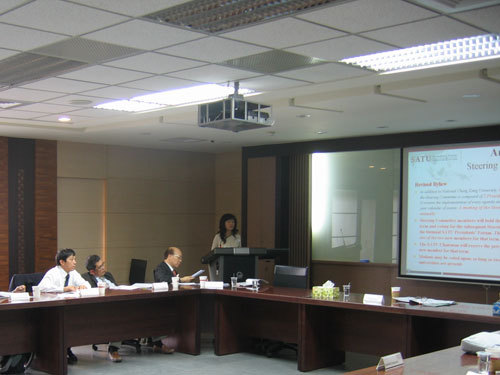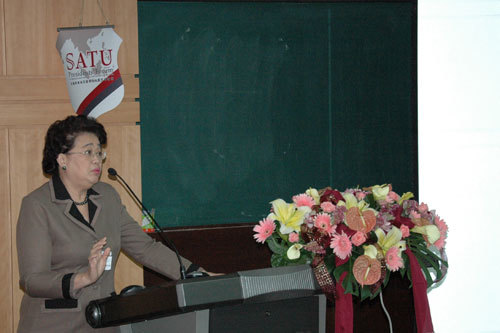 Panelist President Emelinda Roman in University Autonomy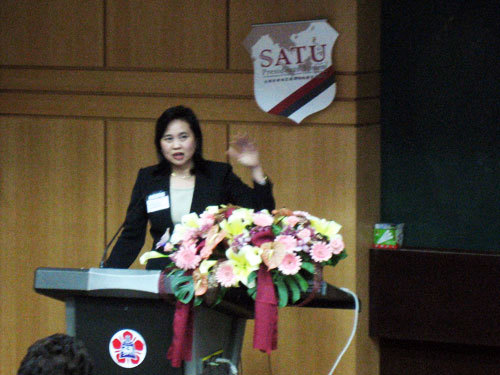 Panelist Prof. Sansanee Chairoj in University Autonomy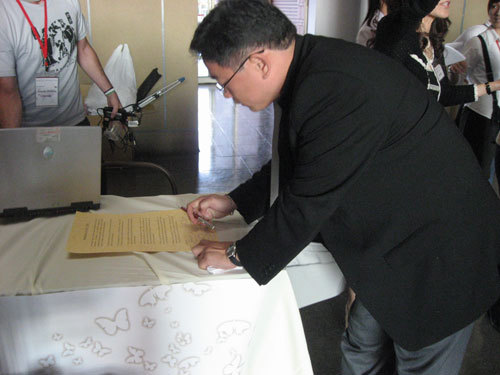 Prof. Rodolfo Ang and the Manifesto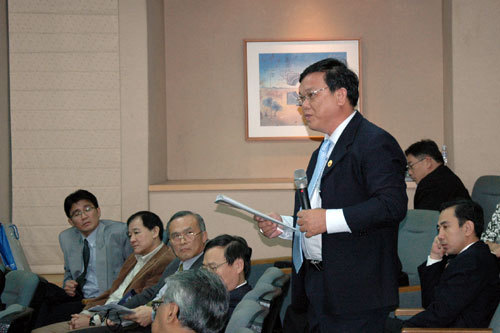 President Nguyen Dong Phon in University Autonomy Session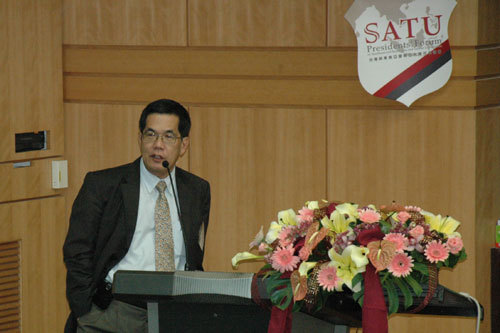 Panelist Prof. Tan Thiam Soon in University Autonomy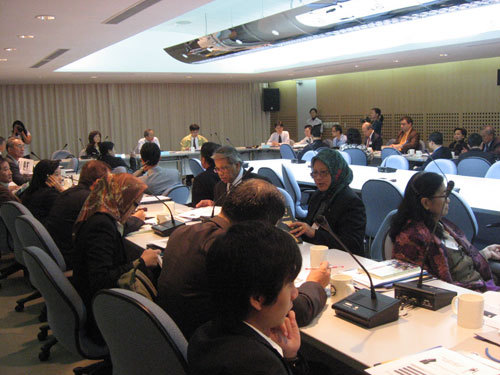 Visitng Southern Taiwan Science Park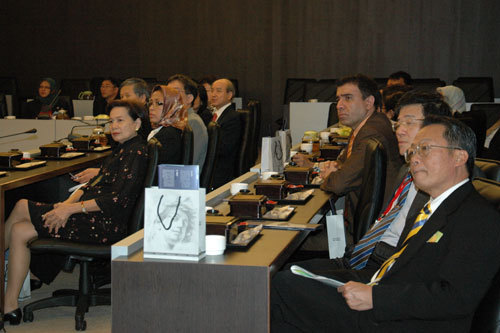 .
Visiting Chi Mei Corporation