---
| Introduction | Participants | Program | Photos |
---
The 2009 Annual Steering Committee Meeting and E-Classroom Mobility International Program Workshop of the Presidents' Forum of Southeast and South Asia and Taiwan Universities (abbr. SATU Presidents' Forum or SATU for short) successfully convened at the National Cheng Kung University on November 12–13, 2009. Nearly twenty university presidents and representatives engaged in discussion and shared ideas about e-classrooms and the newly developed international curriculum on economic, social, and environmental sustainable development. During this time, the two-year calendar of events of SATU was explored, as well as the future development and direction of our organization.
All the attendees agreed that the proposed International Curriculum on Sustainable Development Practice is a worthwhile effort on NCKU and SATU's part, and the attendees graciously shared their inputs and ideas for shaping the program. The SATU International Secretariat will focus on its expansion of members in India in the upcoming year. The Steering Committee members unanimously agreed that they would like to somehow have a closer link to Indian universities because of India's growing importance in the global arena. If SATU is successful in this endeavor, it could become a vital platform for all the members to interact with Indian universities.
Among the ideas explored during the Annual Steering Committee Meeting, emphasis was still placed on Industry-Academia Collaborations. Moreover, with the proposed launch of the International Curriculum, students may have the unique opportunity to have an international panel of advisors from our member universities. Potential themes for the upcoming Biennial SATU Presidents' Forum General Assembly (Fall 2010) are research cooperation, climate change, food security, science technology policy, and extinguishing natural disasters. SATU continually aims to become a distinct and irreplaceable organization within the Asia Pacific region.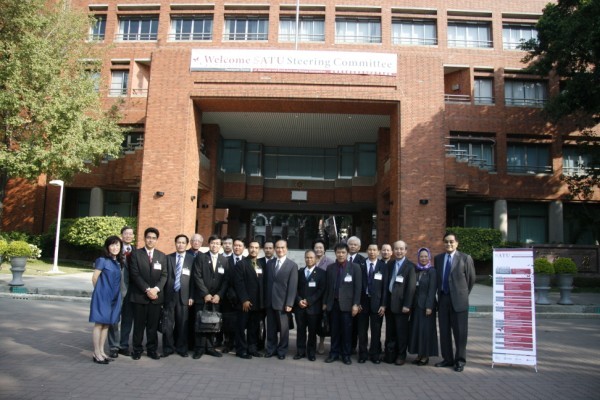 From left to right: Prof. H. Jenny Su, Prof. Shi-Lin Chang, Prof. Ahmad Mustapa Shukri Kamal, Prof. Nguyen Huu Duc, Fr. Bienvenido Nebres, Prof. Soranit Siltharm, Prof. Le Tuan Anh, Prof. Azman Ahmad, Prof. Syed Azhar b. Syed Sulaiman, Prof. Muhammad Anis, Academician Michael M.C. Lai, Prof. Djoko Santoso, Prof. Emerlinda Roman, Prof. Chatchai Ratanachai, Prof. Le Quang Minh, Prof. Vincent Pang, Fr. Carlos Cenzon, Prof. Tso-Chien Pan, Dr. Hjh Rosnah Ismail, SEVP Da-Hsuan Feng
University

Name of Representative(s)

Title

Institute Teknologi Bandung

Dr. Ir Djoko Santoso

Rector

University of Indonesia

Prof. Muhammad Anis

Vice Rector for Academics

Universiti Sains Malaysia

Prof. Ahmad Shukri Mustapa Kamal

Deputy Vice Chancellor

Dr. Syed Azhar Syed Sulaiman

Assoc. Prof.

University Malaysia Sabah

Prof Dr Hjh Rosnah Ismail

Deputy Vice Chancellor (Research & Innovation)

Prof. Vincent Pang

Director, OIA

University of the Philippines

Dr. Emerlinda Roman

President

Ateneo de Manila University

Fr. Bienvenido Nebres

President

Fr. Carlos Cenzon, Jr.

Assistant Professor

Nanyang Technological University

Prof. Tso-Chien Pan

Dean, College of Engineering

National Taiwan University

Tai-Jen George Chen

Dean, Academic Affairs

National Tsing Hua University

Chang, Shih-Lin

DVice President of Academic Affairs

Prince of Songkla University

Prof. Chatchai Ratanachai

Vice President (Outreach & Interaffairs)

Mahidol University

Prof. Soranit Siltharm

VP, Policy & Informatics Technology

Vietnam National Univ.- Hanoi

Prof. Nguyen Huu Duc

Vice President

Prof. Le Tuan Anh

Vice-Director, Int'l Relations Dept.

Vietnam National Univ.- HCMC

Prof. Le Quang Minh

Vice President for Int'l Affairs

University of Brunei Darussalam

Dr. Azman Ahmad

Assistant Vice Chancellor (Education & Internationalisation)

National Cheng Kung University

Academician Michael M.C. Lai

President

Dr. Da Hsuan Feng

Senior Executive Vice President

Prof. Huey-Jen Jenny Su

Vice President for International Affairs

Yasuhiro Fukushima

Professor
Time

Agenda

Thursday, November 12th
Venue: 4F Conference Room 2, Yun-Ping Building West
National Cheng Kung University

08:40

After breakfast, meet in the lobby to walk to venue.

09:00–09:15

Group Photo Session

09:15–09:45

Registration

09:45–10:00

Introduction/Opening Ceremony

-Welcome Remarks by SATU Chairman
Academician Michael M. C. Lai
President of National Cheng Kung University
-Remarks by the SATU Secretary General
Dr. Da-Hsuan Feng
Vice President of National Cheng Kung University

10:00–10:30

Report of SATU Presidents' Forum

Prof. Huey-Jen Jenny Su
Executive Secretary, SATU International Secretariat
Vice President for International Affairs, NCKU

10:30–10:45

Coffee Break

10:45–11:15

E-Classroom International Mobility Program:

Session I:
"International Curriculum on Sustainability/Capacity Building within Southeast and South Asia"
Speaker: Prof. Yasuhiro Fukushima
Department of Environmental Engineering, NCKU

11:15–11:20

Restroom Break

11:20–12:00

E-Classroom International Mobility Program:

Session II:
"Methods & Available Facilities at NCKU"
Speaker: Prof. Dr. Ce-Kuen Shieh
Director, Computer and Network Center, NCKU

"Example – Execution of Program and Sharing of Resources with Member Universities"
Speaker: Prof. Yasuhiro Fukushima
Department of Environmental Engineering, NCKU

12:00–13:30

Luncheon
Corner Restaurant

13:30–14:30

E-Classroom Project Discussion

14:30–15:30

Steering Committee Meeting:

Discussion for 2010 SATU Presidents' Forum

Moderator: SATU IS
Chair: Academician Michael M.C. Lai
Chairman of SATU

15:30–15:50

Coffee Break

15:50–16:50

Steering Committee Meeting:

Review of Organization Constitution
Other Matters for Discussion
Closing

17:00–17:40

Optional Visit:
National Cheng Kung University Museum

18:00–20:00

Dinner Banquet
Ambassador Seafood Restaurant

Friday, November 13th
Venue: Room C, Zenda Suites

09:00–10:00

Opening Ceremony for "2009 Advanced Training Workshop on Southeast Asia Regional Climate Change and Health Issues"

10:10–10:30

Coffee Break

10:30–12:00

Overview of Climate Change and Health:
The Past, Present, and Future

12:00–13:30

Luncheon with Discussion – Zenda Suites
Workshop Participants
Invited Guests: SATU Steering Committee Members

13:40–17:30

Optional Tour:
The SME Incubator at Tainan Science Park &
Black-faced Spoonbill Conservation and Management Center

18:00–20:00

Dinner
Shangri-La's Far Eastern Plaza Hotel, 10th Floor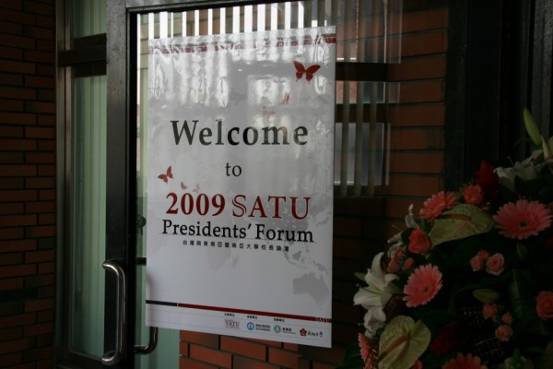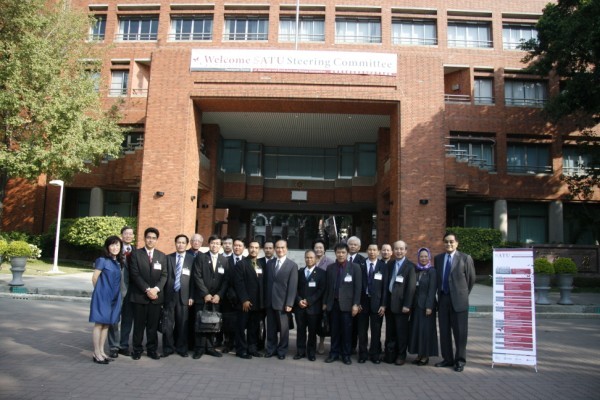 2
009 Annual SATU Steering Committee Meeting and E-Classroom Workshop
SATU Secretary General, Vice President Da-Hsuan Feng, giving opening remarks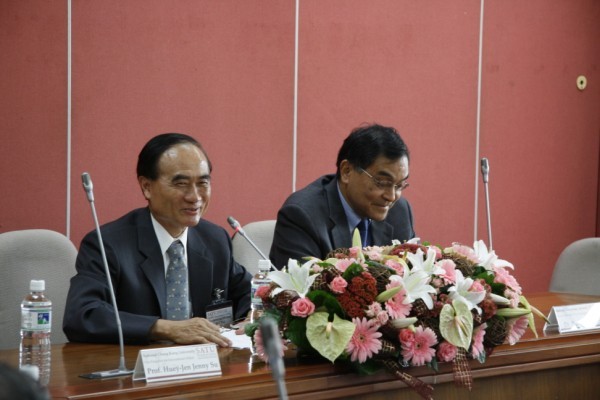 SATU Chairman, Academician Michael MC Lai and Secretary General, Dr. Da-Hsuan Feng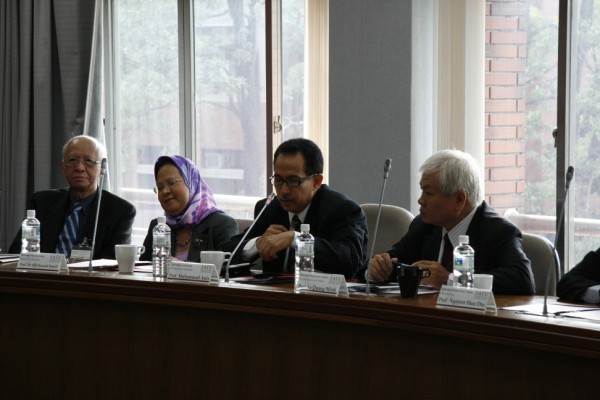 From left to right: Fr. Nebres, Prof. Ismail, Vice Rector Anis, and Vice President Le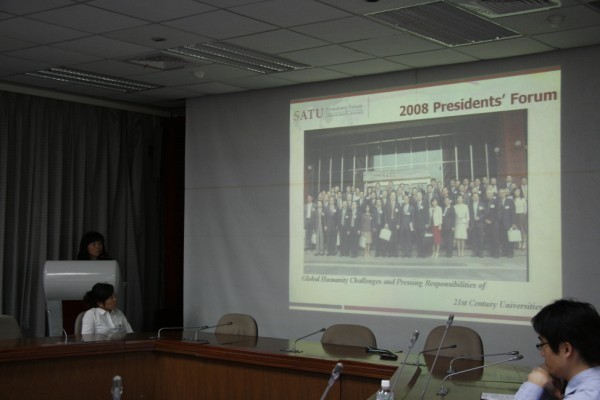 General Assembly report presented by SATU Executive Secretary, Prof. H. Jenny Su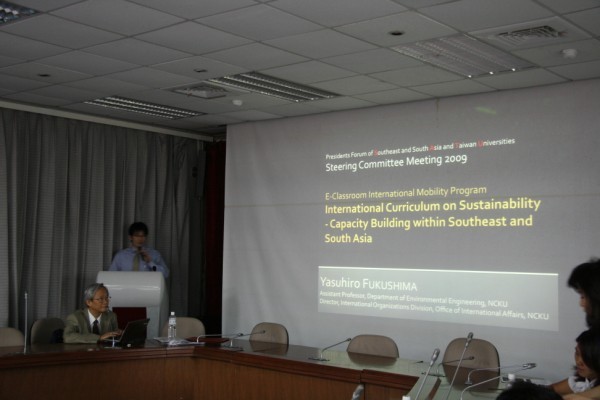 Professor Yasuhiro Fukushima, Director of the International Organizations Division, NCKU, presenting on the newly developed international curriculum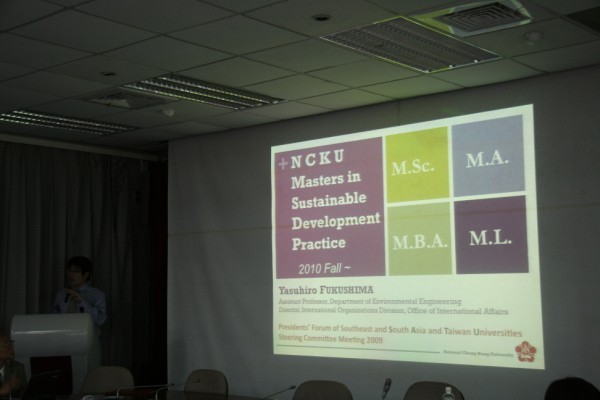 NCKU's Masters in Sustainable Development Practice, with an expected launch in Fall 2010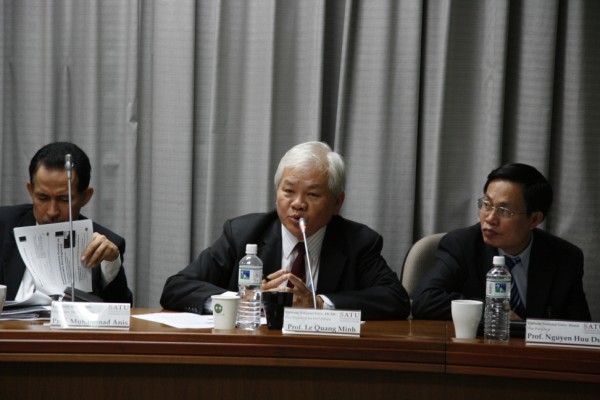 Vice President Le Quang Minh, Vietnam National University Ho Chi Minh City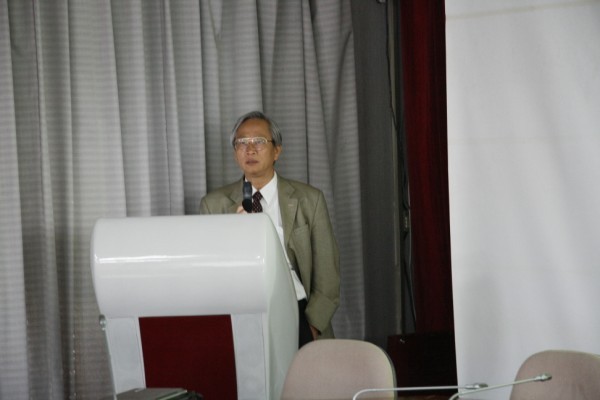 Professor Ce-Kuen Shieh, Director of the Computer and Networking Center, talking about the available resources at NCKU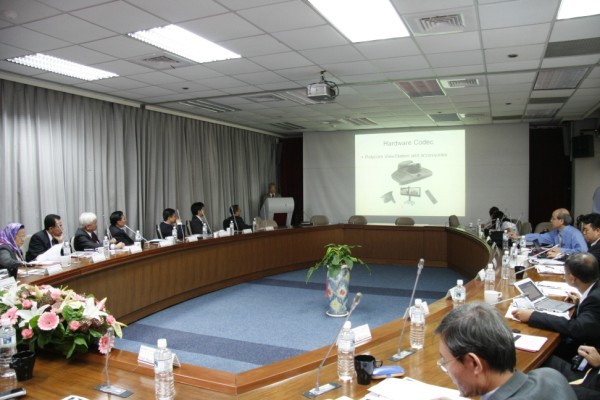 Available facilities that would assist with E-classroom resource sharing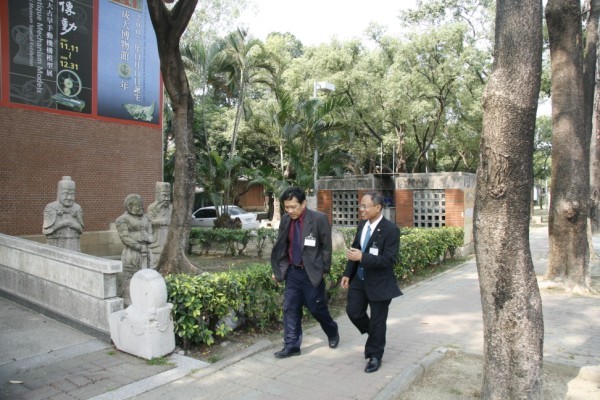 Prince of Songkla University's Vice President Chatchai Ratanachai and ITB (Bandung)s' Rector Djoko Santoso strolling through NCKU's lovely campus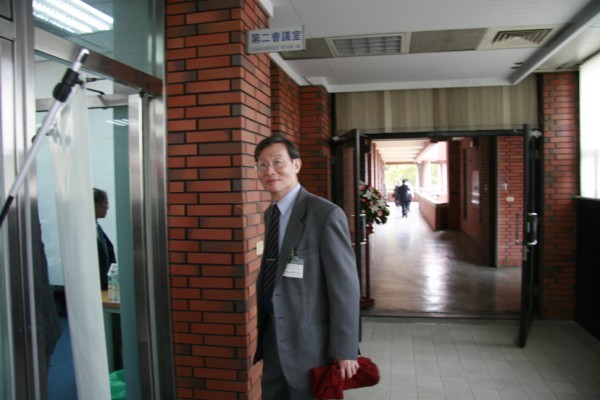 National Tsing Hua University's Vice President Shih-Lin Chang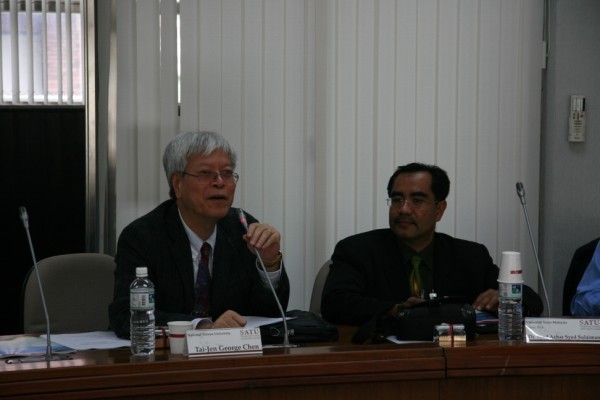 National Taiwan University's Vice President George Tai-Jen Chen giving a brief self-introduction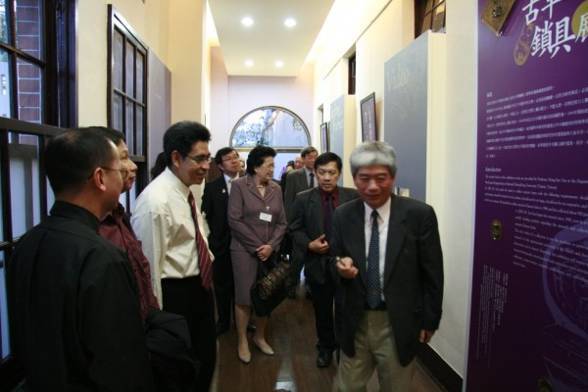 NCKU Museum, guided by Museum Director Prof. Hong-Shen Yan (far right)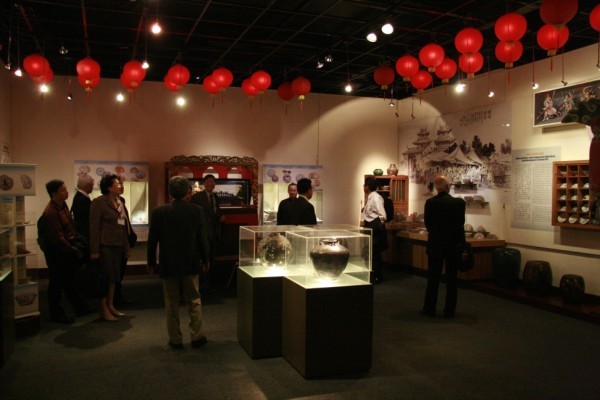 Traditional exhibit within the Museum
November 13th, 2009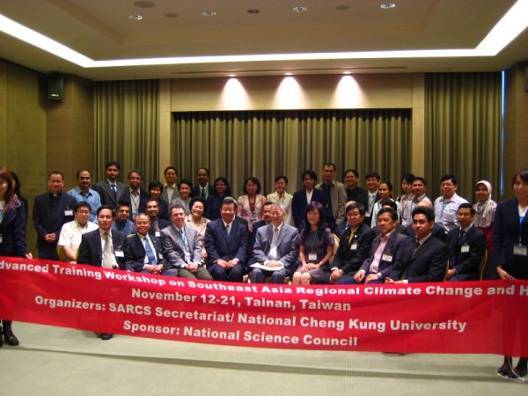 Observation of an E-classroom module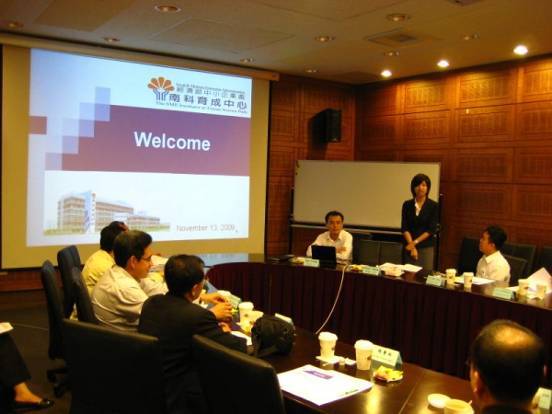 Visit to the Incubator at the Tainan Science Park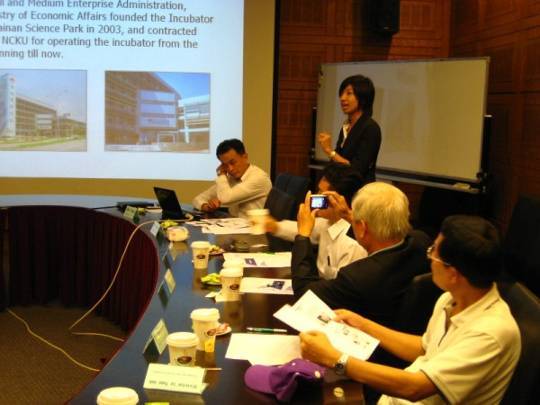 Introduction to the Center by Manager Winnie Huang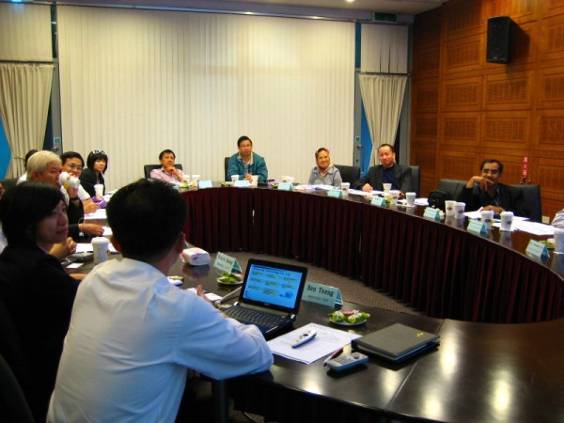 Q&A Session moderated by Mr. Ben Tseng (front left)