CALL FOR PARTICIPATION > ATU-Net GLOBAL TECHNOVATION HACKATHON (ATU-Net GTech 2023)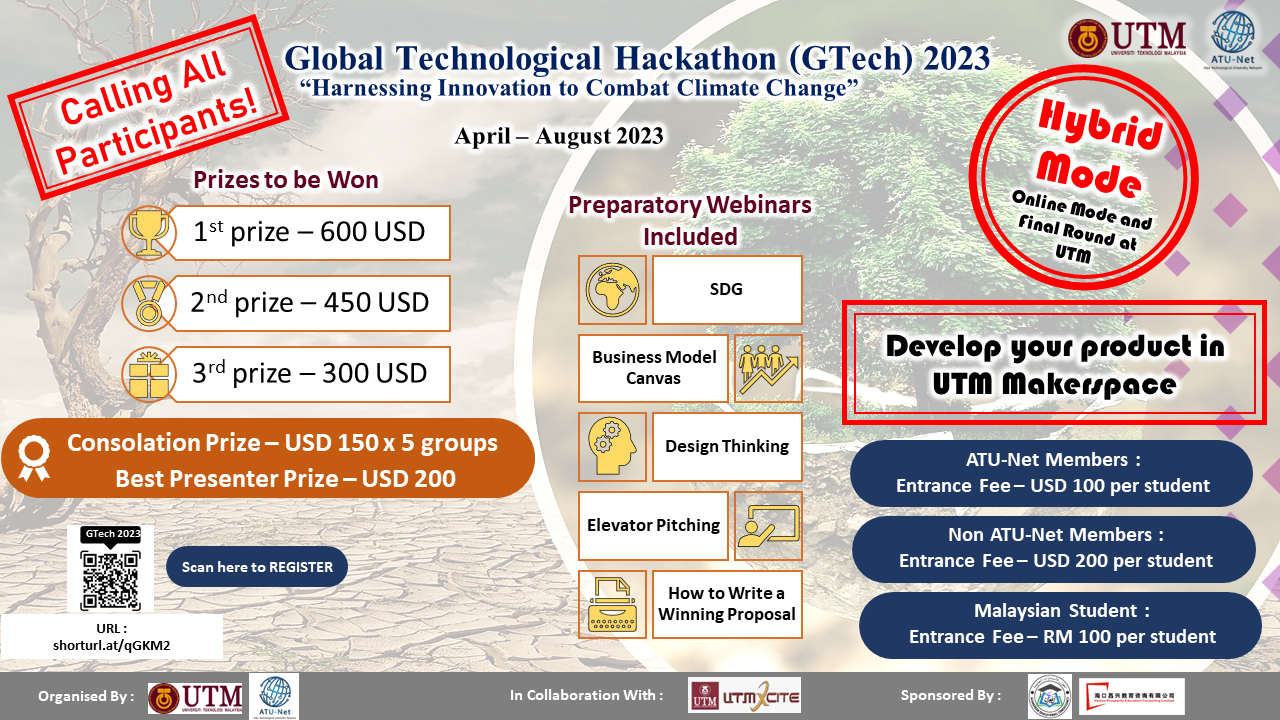 Universiti Teknologi Malaysia as main host university in collaboration with Asia Technological University Network (ATU-Net) with great pleasure is calling all students to the ATU-Net Global Technovation Hackathon 2023 (ATU-Net GTech 2023). On behalf of the organising committee, we would like to invite all member institutions to send in your students to this event and your cooperation to disseminate the information to your institution is highly appreciated.
All students from ICT, Engineering, Management and Business academic backgrounds are welcome to participate in ATU-Net GTech 2023. Themed "Harnessing Innovation to Combat Climate Change", ATU-Net GTech 2023 will be conducted in hybrid mode, of which finalists will be competing at UTM, Malaysia physically for the final sprint with full board meals, accommodation and ground transportation. ATU-Net GTech 2023 will feature prominent webinar speakers of various fields who will guide students toward becoming the champion.

DON'T MISS THE OPPORTUNITY!!
Great networking sessions with students from other countries, learning opportunities via webinar sessions, and all teams will stand a chance to fly to Malaysia to compete and win CASH PRIZES.

.:IMPORTANT DATES:.
25 January – 26 February 2023: Call for Participation
1 – 15 March 2023: Group Division
16 – 31 March 2023: Briefing Session (student + panel)
1 – 31 April 2023: Preparatory Webinars (Launching)
1 – 31 May 2023: 1st Stage Pitching & Result Announcement
1 – 30 June 2023: Prototype Development
1 – 31 July 2023: Preparation to fly to UTM, Malaysia (only finalists)
28 – 30 August 2023: Fly to Malaysia + Final Sprint

.:FEES:.
ATU-Net Members: USD 100.00 per student
Non-ATU-Net Members: USD 200.00 per student
Malaysia Student: MYR100.00 per student

The online event will kick off in April with a preparatory webinar so hurry up and secure your spot by 26 February 2023 (Sunday)

REGISTER HERE > ATU-Net GTech 2023 Registration Form

Any recent updates pertaining to the event will be posted on the website at https://atunet.org/atunetgtech2023/. For any inquiries, please email usvat globaleducation@utm.my or atunet@utm.my.

We look forward to your participation soon! Thank you and have a nice day ahead.