The 2022 SATU Local Chapter with the topic "The Role of Higher Education Institutions in Solving Contemporary Issues Related to SDGs" was brought together by Airlangga University (UNAIR) of Indonesia and National Cheng Kung University (NCKU) of Taiwan. The event was successfully held on 16 June 2022 via Cisco Webex Meetings, receiving over 140 registrations from India, Indonesia, Malaysia, the Philippines, Thailand, Portugal, Vietnam and Taiwan.

Highlight of the Workshop
The events gathered experts from both universities to disseminate their research results and have deliberate exchanges of experiences in the respective fields and hope to stimulate new thoughts on ways to contributing to a more sustainability community across geographical and cultural borders. The event started with the opening addresses given by Prof. Dr. Mohammad Nasih, Rector of the Airlangga University and Prof. Huey-Jen Jenny Su, Chairperson of SATU Presidents' Forum and President of National Cheng Kung University. The event followed by an overview of the collaboration opportunities provide by SATU, delivered by Prof. Hsiao-Wen Wang, Executive Secretary of SATU Presidents' Forum and Vice President for International Affairs of NCKU.
The presentations were divided under two sub-themes. The first sub-theme was "University and Industry Collaboration to Support Community in the Sector of Health" chaired by Prof. Woei-Jer Chuang, Senior Vice President of Director General of Innovation Center of NCKU. Prof. Yi-Shan Tsai, Director of Clinical Innovation and Research Center of NCKU shared the benefits, impacts and strategy for academia-industry collaboration on NCKU hospital healthcare. Prof. Dr. Nasronudin, dr.,Sp.PD(K-PTI), FINASIM, Director of Universitas Airlangga Teaching Hospital looked into the necessity of the university and industry collaboration that lead to medical device innovation and implementation. After the presentation of the professors, they had some discussion about the innovation process in their own field with the participants.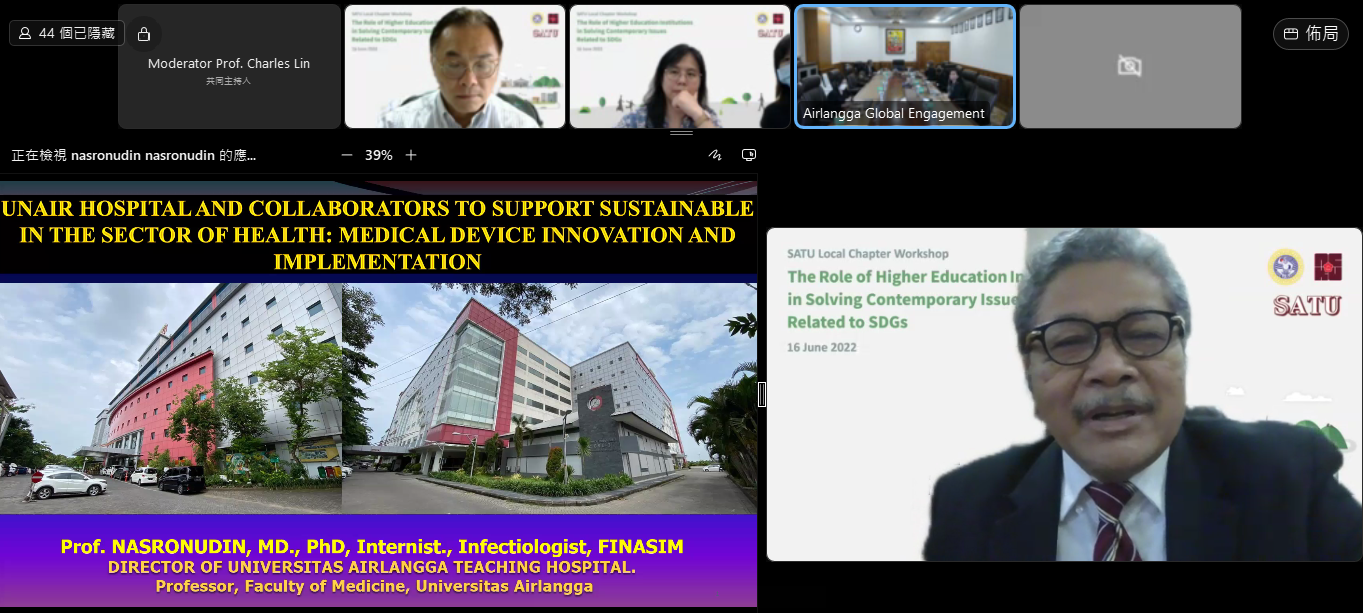 The sharing in the second part of the event focused on "University and Industry Collaboration to Support Sustainable Community in the Sector of Science and Technology" and the chair of this sub-theme is Dr. Bayu Arie Fianto, Director of Sustainable Development Goals Centre of UNAIR. Dr Muhammad Miftahussurur, dr., M.Kes., Sp.PO, Ph.D, Vice Vector of Internationalisation, Digitalization and Information of UNAIR shared how active collaborations between university, industry and the government in conducting research and innovation aimed at reducing losses due to disaster. The presentation of Prof. Ching Hung, Associate Professor of Department of Civil Engineering NCKU, addressed the Design Eco-friendly Solutions for Landslide-prone Geomaterials under the SDGs. At the end, both Dr Muhammad Miftahussurur, dr., M.Kes., Sp.PO, Ph.D and Prof. Ching Hung had a discussion on how should Taiwan and Indonesia collaborate to reduce the risk of natural disaster by using technology.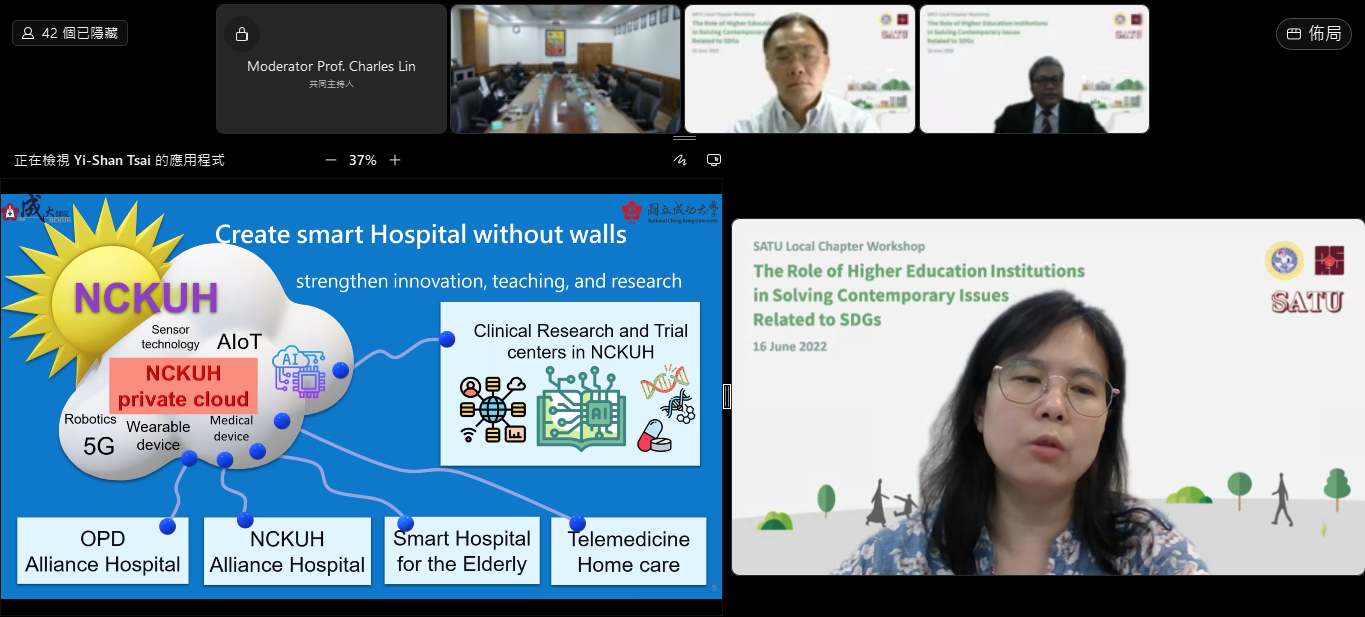 About Local Chapter Workshop
The SATU Local Chapter Workshop was created among SATU Member Universities to promote cross-cultural teamwork among Southeast and South Asian and Taiwanese Universities involving scholars from diverse fields. The main objectives are to help find solutions to share problems in our global regions to contribute to our societies' knowledge and to push the development of the respective countries of our members.